The Integrated Care System brings partners together to organize and deliver services that aim to promote prevention, improve health and wellbeing outcomes and to reduce inequalities for our population. Over the last few years, we have developed and refined the way in which the ICS is constructed, its membership model and how it operates. We have seen it emerge from the original concept of the Sustainability and Transformation Partnership and we are now on the verge of the next big step in our integration journey.
The Integrated Care Board is a new component of the ICS. It is the statutory NHS body that has replaced the CCG and will inherit a range of new functions that will be delegated from NHS England. The ICB will receive the NHS financial allocation for Herefordshire and Worcestershire (circa £1.5bn) and will have the important role of allocating it out across services to ensure the best outcomes are achieved. The ICB will be very different from the CCG it is replacing. For example, the construct and membership of the main board will be very different – with almost half of the voting members being from local partner organisations. In addition to duties transferring across from the CCG, it will also have new duties, particularly around promoting population health, reducing inequalities, setting the system strategy for improving the quality and performance of services, achieving system financial balance and overseeing the performance of local collaboratives and place-based partnerships. The ICB will need to be collaborative, coordinating and supportive; working hand in hand with the statutory boards of NHS Trusts and the democratic processes of local authorities.
These documents illustrate the proposed operating model of the Integrated Care Board and how it interfaces with other parts of the Integrated Care System.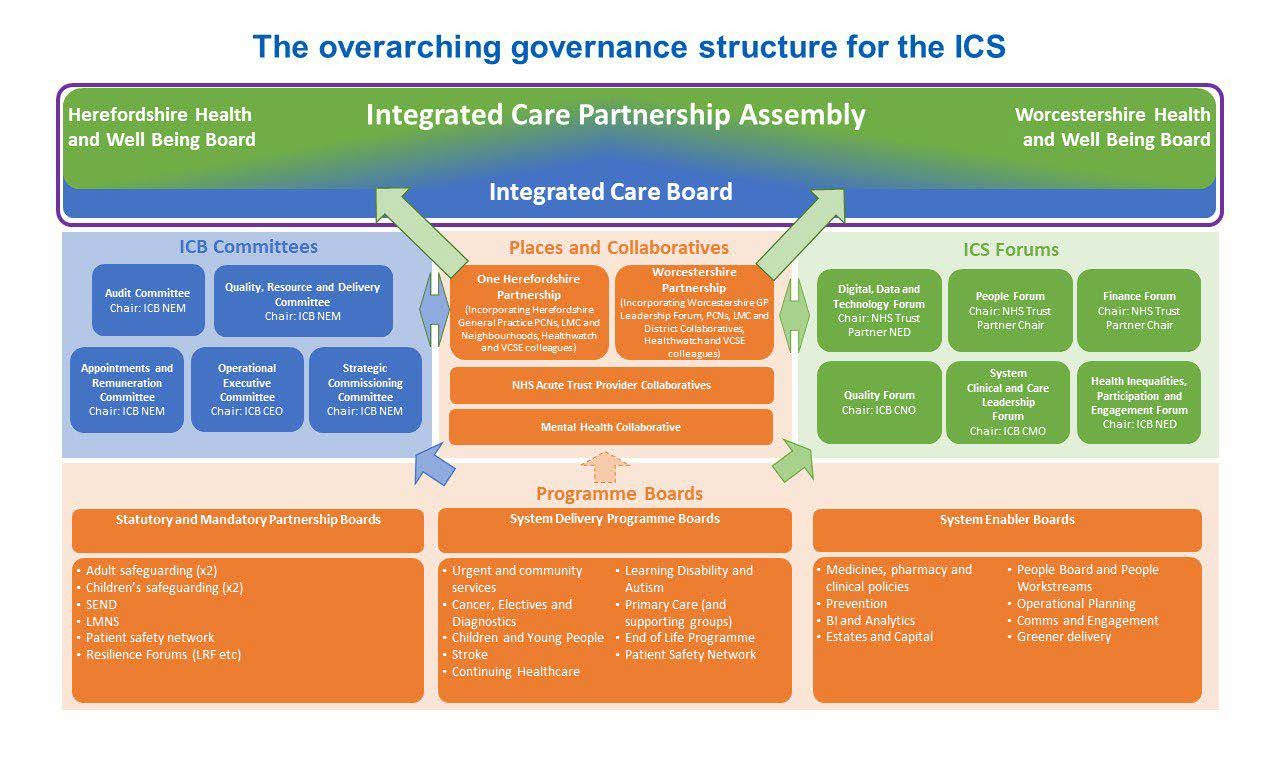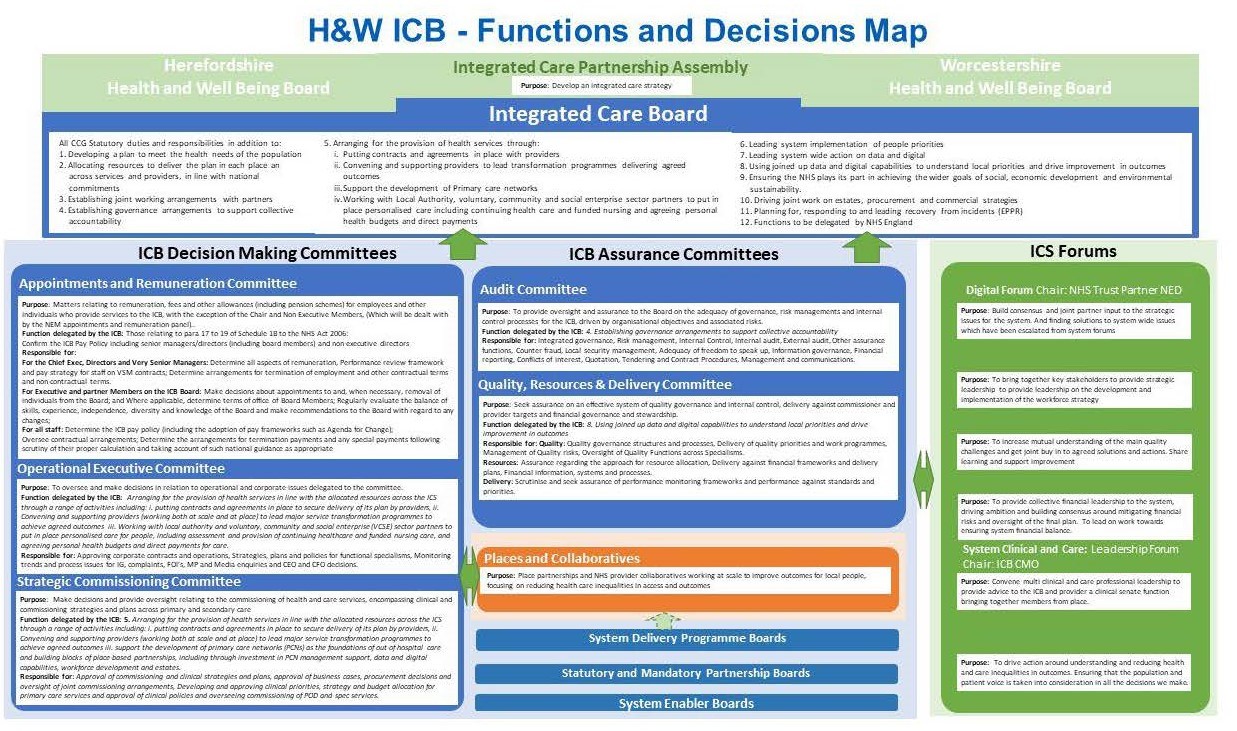 Our constitution sets out the arrangements to meet our responsibilities for commissioning a wide range of healthcare services for the people of Herefordshire and Worcestershire. It is the foundation of our organisation and clearly describes what we are setting out to achieve, and how we intend to achieve it. The Constitution sets out:
Who we are as an organisation
Who constitutes our Board
How we form our Board and the standards those individuals must uphold
How and when we make decisions (Please see Scheme of Reservation and Delegation, Standing Financial Instructions and Detailed Standing Financial Instructions for a full breakdown of delegated decision making arrangements)
Who within the organisation has the delegated authority to make decisions on behalf of the organisation
How we will manage conflicts of interest and standards of business conduct (Please see Conflicts of Interest and Standards of Business Conduct Policy for more detail)
The ICB has established a number of committees and forums in order to enable the organisation to effectively fulfil and oversee delivery of its functions.
The ICB committees comprise of:
The ICS Forums comprise of:
As detailed, within the Operating Model
Digital Forum
People Forum
Quality Forum
Finance Forum
System Clinical and Care Forum
Health Inequalities, Participation and Engagement Forum